Cutting & Trimming your pet's coat
Nobody wants a pudding bowl hair cut.
We've all been there. Using scissors to tidy up your pet's appearance sounds easy, but creating a professional finish requires the right tools and knowledge! However, making sure your pet looks good and is comfortable is important. For dogs with fast growing coats, keeping hair out of their eyes and sweet smelling around their mouth, ears and sanitary areas has more benefits than just good appearance. But before you scissor up, read on for our beginners guide to choosing and using scissors correctly.
Choosing the right scissor for the task in hand is the first step to achieving success: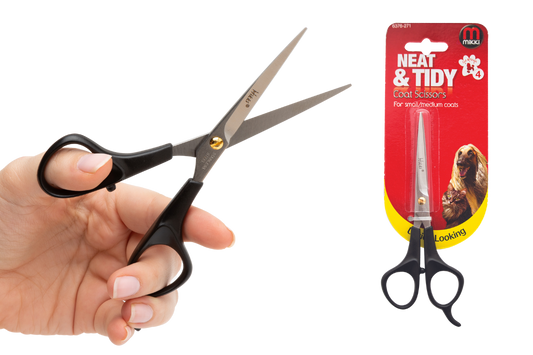 These are suitable for trimming and shaping your dog's coat into the style you like. They need to stay sharp to be effective, heat-treated stainless steel with micro-serrated cutting edges give long lasting precision.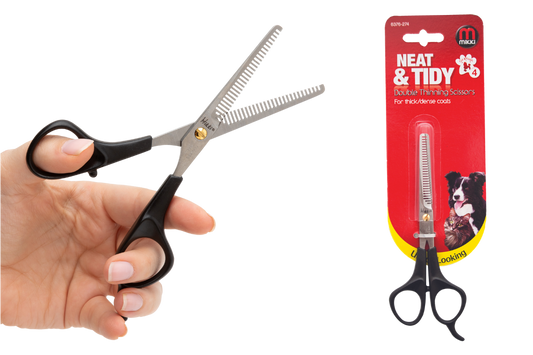 Perfect for removing bulk from the coat. Thinning scissors are more forgiving and don't leave a blunt finish to the cut – they're also great at helping to cover up any mistakes! Ideal for layering and giving a softer edge to the finish of your cut. Double bladed thinning scissors remove more bulk than single bladed scissors.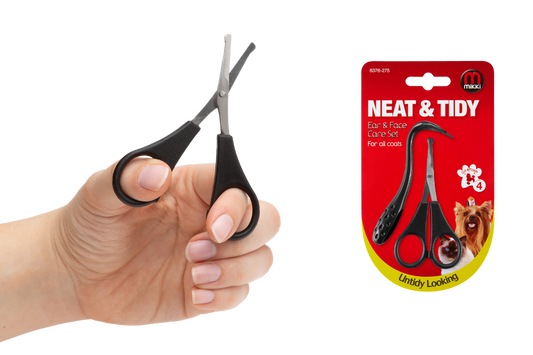 These small scissors are ideal for getting into smaller areas and have blunted tips for extra safety around your pet's most sensitive features. Perfect for trimming eyebrows, beards, around the ears and even in their paw pads.
Top trimming tips:
Timing is key. Make sure your pet is well exercised, relaxed and happy before you begin. Trimming a dog with ants in his pants will be more than twice as hard.
Preparation. Make sure your dog's coat is brushed through before you start trimming. Having their coat tangle free and hanging straight is essential to getting a clean cut.
Less is more. Go slow and trim a little at a time. You can always take more off but you can't put it back on!
If you're a beginner, start out with single thinning scissors, these are more forgiving and allow you to cut without showing hard edges for a less obvious trim.
Mistakes happen. If you get a little scissor happy, don't worry – it will grow back. Be more cautious next time.